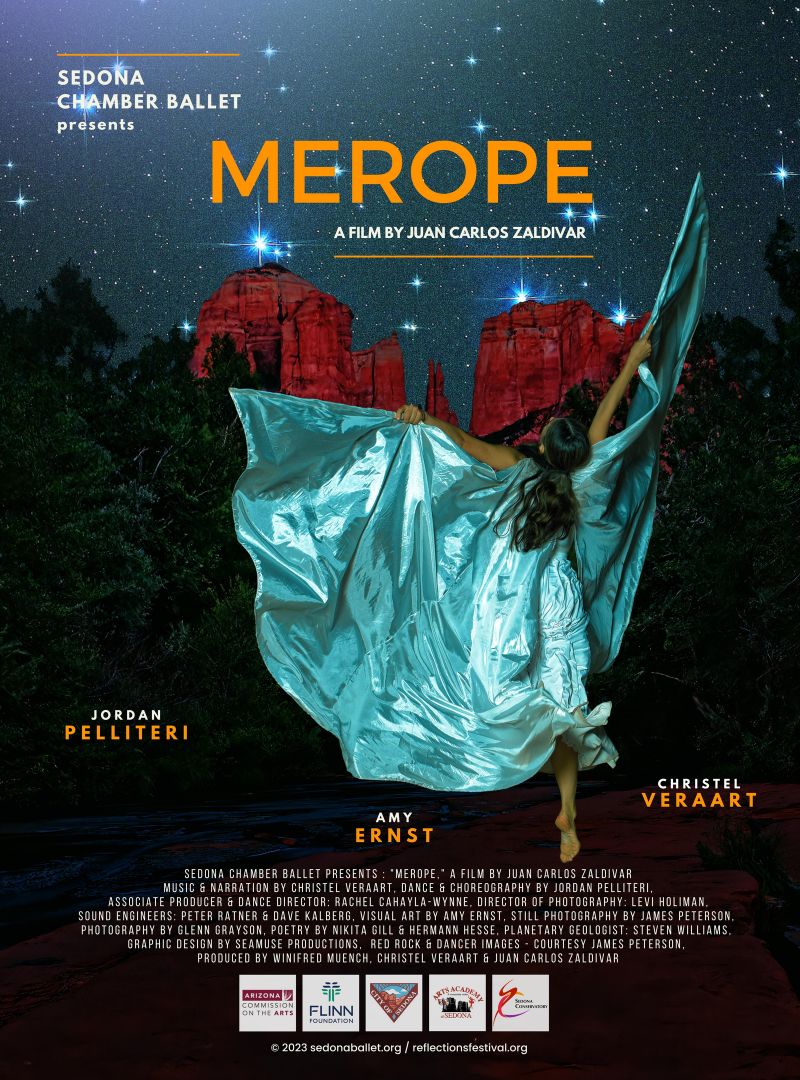 Click on Image
Grant Review
Click on Image
Storyboards
Short Film
In Collaboration with Sedona Ballet
Merope
The short film, Merope, follows a personification of the hidden star on a journey towards emancipation from the ties that historically have bound her and her six sisters, the Pleiades constellation, in a narrative about captivity and victimization, towards a new story where she claims visibility and a more authentic place in the universe for her and her sisters.
Credits & General Information
Running Time: 08:04 min
Directed By: Juan Carlos Zaldivar
Producers: Winifred Muench, Christel Veraart, J.C Zaldivar
Associate Producer: Rachel Cahayla-Wynne
Production Company: Sedona Chamber Ballet
Edited By: Juan Carlos Zaldivar
Director of Photography: Levi Holiman
Music/Narration: Christel Veraart
Dance Director: Rachel Cahayla-Wynne
Performance/Choreography: Jordan Pelliteri
Still Photography: James Peterson
Featured Visual Artist: Amy Ernst
Photography: Glenn Grayson
Poetry: Nikita Gill, Hermann Hesse, Christel Veraart
Synopsis
Merope and her sisters, the Pleiades constellation, live in space, void of time and idiom, yet —for centuries— they have inspired artists to create myths, music and performances, which have infused in us a search for universality among our often divided world.
In this original anthropomorphization of Merope, the producers use the film medium itself to create the first iteration of Sedona Ballet's Reflections Festival, inviting many artists across several arts disciplines —Photography, Music, Spoken Word and Visual Arts—to donate or create works inspired by Merope in one of the most beautiful places – Sedona.
All works were then orchestrated under the direction of filmmaker and visual artist, Juan Carlos Zaldivar, underscored by Christel Veraart's mesmerizing musical composition from a longer musical composition entitled Pleiades.
In an eternal search for universality, Merope presents herself simultaneously as film and festival. Combining all the arts, she transports us to a universal place, to provide the perfect fertile ground for the authentic YOU.
"Sonically immersed in a divine feminine aura of sacred mystery, Pleiades is an engrossingly enchanting album best played at night and will unquestionably appeal to many fans of Lisa Gerrard, Áine Minogue and Hildegard von Bingen!"
— Candice Michelle, Journeyscapes Radio
Composer in Sedona
Christel Veraart
Composer – Singer – Lyricist