Directed by Juan Carlos Zaldivar and produced by Winifred Muench and yours truly, the short Merope film stands as an embodiment of artistic collaboration, centered on the music from my award winning album Pleiades. This creative endeavor was made possible through generous support from the Arizona Commission on the Arts, the Flinn Foundation, the City of Sedona, and the Sedona Conservatory. Proudly presented by Sedona Ballet, "Merope" serves as the inaugural spark igniting the flames of the Reflections Festival, a brand new initiative that celebrates the very best in the performing and visual arts, thus enriching Sedona and Arizona's cultural life.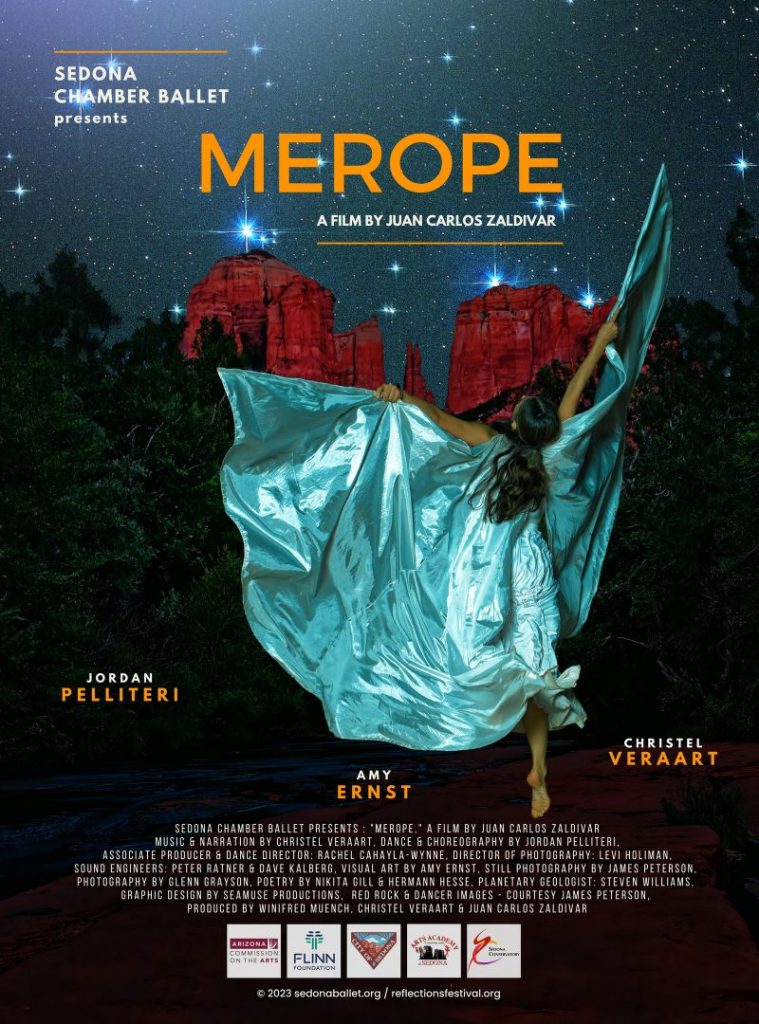 Merope intertwines my musical composition and narration with the captivating dance and choreography of Jordan Pelliteri. Moreover, the visual aspect is enriched by the creative contributions of artists Amy Ernst, Jim Peterson, and Glenn Grayson. The ethereal ambiance of the film is further deepened through the poetic verses of Nikita Gill and Hermann Hesse. The short film "Merope" transcends the boundaries of traditional art forms, converging music, dance, visuals, and poetry into an immersive experience that resonates with the soul and stimulates the senses.
 We have calcium in our bones, iron in our veins,
Carbon in our souls and nitrogen in our brains.
93% stardust with souls made of flames,
We are all just stars that have peoples names.

— Nikita Gill
Merope film – Synopsis
Merope follows a personification of the hidden star on a journey towards emancipation from the ties that historically have bound her and her six sisters, the Pleiades constellation, in a narrative about captivity and victimization, towards a new story where she claims visibility and a more authentic place in the universe for her and her sisters. Merope and her sisters, the Pleiades constellation, live in space, void of time and idiom, yet —for centuries— they have inspired artists to create myths, music and performances, which have infused in us a search for universality among our often divided world.
In this original anthropomorphization of Merope, the producers use the film medium itself to create the first iteration of Sedona Ballet's Reflections Festival, inviting many artists across several arts disciplines —Photography, Music, Spoken Word and Visual Arts—to donate or create works inspired by Merope in one of the most beautiful places – Sedona. All works were then orchestrated under the direction of filmmaker and visual artist, Juan Carlos Zaldivar, underscored by Christel Veraart's mesmerizing musical composition from a longer musical composition entitled "The Pleiades". In an eternal search for universality, Merope presents herself simultaneously as film and festival. Combining all the arts, she transports us to a universal place, to provide the perfect fertile ground for the authentic YOU. Read More
Thus the stars draw their path.
Immutable and misconceived.
We entangle ourselves in a hundred bonds.
You rise from brilliance to brilliance.
Your life is nothing but light!
I must from my darknesses,
Unfold my longing wings.
You smile, I fly and am.

— Hermann Hesse
(translation & adaptation by Christel Veraart)

Merope Film Production Team & Artists
We are grateful to our team of highly skilled individuals who have given their "everything" to the making of our inaugural film: "Merope". We couldn't have done it without you!
Merope Film Production Team
Director: Juan Carlos Zaldivar
Producers: Winifred Muench, Juan Carlos Zaldivar, Christel Veraart
Associate Producer: Rachel Cahayla-Wynne
Director of Photography: Levi Holiman
Dance Director: Rachel Cahayla-Wynne
Planetory Geologist: Steven Williams
Visual Arts Advisor: Mary Byrd
Sound Engineer: Peter Ratner
Wardrobe: Rosemary Mays
Advisor: Achmed Valk
Advisor: Russell Fox
Technician: Jon Capozzoli
Production Assistant: Zoe Kalmus
Merope Film Artists
Featured Visual Artist: Amy Ernst
Dancer/Choreographer: Jordan Pelliteri
Composer/Narrator: Christel Veraart
Still Photography: James Peterson
Photographer: Glenn Grayson
Poets: Nikita Gill, Hermann Hesse