Last week I had the privilege to sit down with Canvas Rebel for an interview. This magazine champions fresh perspectives over the repetitive insights of ivory tower professors and billionaire fund managers. They're dedicated to amplifying small business owners, artists, and creatives by providing them with platforms to share their unique stories.
Their mission revolves around the power of storytelling, inspired by their founding of VoyageLA. They've expanded across the nation, recognizing the need for stories that reveal the day-to-day challenges of success. Supporting independent artists and small business owners is a way to enrich our communities and inspire one another to pursue passions.
Excerpts from the Canvas Rebel Interview
Alright, Christel thanks for taking the time to share your stories and insights with us today. What's been the most meaningful project you've worked on?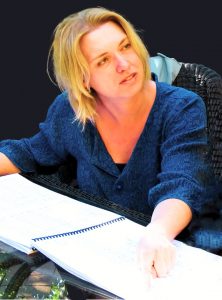 Every project I've undertaken offers its own unique significance, usually connected to a specific place in the world. Nevertheless, if I were to select one that holds a special place in my heart, I'd like to share the story of my latest endeavor. This project holds special meaning for me because it gave rise not only to my new album, "Nostalgia," but also to my associated memoir, "Santa Fe & Esmeralda."
The grip of nostalgia took hold of me in 2020, during a time when the world grappled with Covid. My own experience of loss during this time came with the unexpected death of German film maker Sebastian Jobst who passed away from Covid shortly after I completed composing the film score for Dreaming of Whales, which the two of us had just premiered at the ILLUMINATE Film Festival in Sedona.
Amidst the hushed rhythms of the pandemic, I sought solace within the realm of my art. As an artist and world traveler, different locations have always evoked different associations in me. In the quiet of my studio, when I took a moment to reflect on the place I personally associated with nostalgia, it transported me straight back to Argentina, a country I had once called home.
It's striking how a single feeling like nostalgia can transport you back in time. "Nostalgia," now forever intertwined with Argentina, opened the floodgates to long-buried experiences just when I thought I was done with them. I mean, I lived in Argentina until 1988 but even years after I left, I played Argentine music with a passion, danced the tango and specialized in Argentine songs which I studied in Paris. My first album Terra Incognita contains a collection of classical folksongs from Argentina and even after all these years, I still find myself quoting poetry in Spanish, a language that effortlessly resurfaces in my mind.
Amidst a world steeped in drama, I composed and produced my album, "Nostalgia." It began with a "Tango," an ode to Argentina and my European roots. A soulful "Milonga" followed, echoing Astor Piazzolla's influence, featuring the mournful interplay of cello, bandoneon, and piano—the defining instrumentation for the album. "Milonga de mi Alma," the vocal rendition of this same composition, blended native Argentine melodies with a touch of nostalgia for my Dutch homeland.
"Zamba," a sensuous handkerchief dance, a slow Argentine folklore dance, emerged unconsciously. "Zamba de Fe" pondered where love might be found, paying homage to the guitar's role in Argentine folk music. My "Vals" celebrated this guitar tradition, while "Paseo" offered a romantic ballroom stroll. "Ausencia" started with a melancholic tone, eventually evolving into a dynamic interplay of instruments. The album "Nostalgia" has transformed into a nearly sixty-minute musical reflection on Argentina. Soon to be released!
More Information on Nostalgia
Meanwhile my memoir "Santa Fe & Esmeralda" was born. A love story between myself (a young Dutch musician) and a gay Argentine aspiring dancer and musician amidst Argentina's transition to democracy. Set in Buenos Aires' vibrant art scene from 1987 to 1996, this memoir intertwines cultural exploration, personal growth, and historical context to celebrate the enduring power of human connection. Through reflective chapters, I take readers on a transformative journey of self-discovery, resilience, and the pursuit of inner harmony. Amidst contrasting worlds, a beautiful friendship flourishes, defying cultural barriers.
However, our path takes an unexpected turn when my friend contracts AIDS, and I become a caregiver and advocate, defying social stigma. The enduring strength of our friendship lies in our unwavering ability to maintain our artistic perspective. We playfully transformed even our most agonizing experiences into cherished treasures, finding beauty even in the depths of our despair. "Santa Fe & Esmeralda" portrays the transformative power of human connection in the face of adversity, showcasing the enduring bond and boundless capacity of the human heart to love and heal despite immense challenges.
More Information on Santa Fe & Esmeralda
Thanks to its visual and choreographic quality, both the music of "Nostalgia" and memoir "Santa Fe & Esmeralda" provide ideal material for dance and film. I am currently in conversations with choreographers and filmmakers to elevate both to new heights.
Awesome – so before we get into the rest of our questions, can you briefly introduce yourself to our readers.
Allow me to introduce myself – I'm Christel Veraart, a composer, singer, and lyricist whose musical journey defies both geographical and genre boundaries. My musical journey began in the Netherlands, where I laid the foundation for my career with classical training in both piano and voice in Maastricht. Later, I furthered my classical music studies in Buenos Aires, London and Paris.
After moving to the United States, my artistic training expanded with studies in orchestration at Berklee College of Music. I ventured into the realms of electronic music, sound design, and graphic design, writing, expanding my creative horizons far beyond conventional limits.
I have accumulated an extensive body of work, including ten albums and numerous singles spanning various genres. Music has always felt like "home" to me, even as a young child, and my experiences living in different parts of the world have enriched my creative process. The inspiration for each of my albums draws from the places I have called home.
View Albums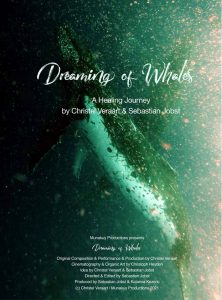 Surrounded by breathtaking landscapes that seemed tailor-made for the silver screen, it's no wonder that my time in Alaska sparked my venture into film scoring, yielding the soundtrack Return of the Salmon, later followed, albeit inspired by very different landscapes and universes, by "Dreaming of Whales" and Merope.
View Soundtracks
My compositions have featured on stage, in films, and in dance productions worldwide. Along the way, I've garnered accolades, grants, and industry recognition, including the "Best Ambient Album of the Year" award in 2020 for my album, Pleiades. Notably, my expertise has been sought after by Google for collaborative projects.
Unwavering in my pursuit of inspiration, I consistently create new music. "Nostalgia – Reflections on Argentina," is set to release alongside its companion memoir, "Santa Fe & Esmeralda." Additionally, "Sacred Arias," resonating with tunes from "the old country," is ready to take flight. Stay tuned!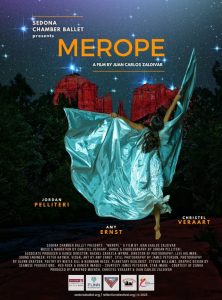 In 2021, I co-founded the Reflections Festival with Winifred Muench of Sedona Ballet. Reflections Festival celebrates the Performing, Literary, and Visual Arts. We recently co-produced "Merope," a short art film that marked the Festival's inaugural chapter.
My journey into the world of music and art began when I was a young child and an aspiring musician. I remember spending my days near the piano, playing and composing songs. Music became an integral part of my life from the earliest moments I can recollect. Growing up in Europe, I was surrounded by the awe-inspiring architecture of historic buildings with natural acoustics that lent themselves to music, such as the beautiful churches where I often performed. It was around the age of 12 when I realized my true calling was to be a musician.
My formal musical education commenced with classical piano studies at the Conservatory of Music in Maastricht in the Netherlands, an ancient Roman city often referred to as "little Paris." During my time as a piano student at the conservatory, I shared a house with fellow musicians from diverse corners of the world, particularly South America. Like most classical musicians, I dedicated myself to rigorous daily practice, averaging six hours of piano practice, until I had a pivotal realization, — that to become a more intriguing and multifaceted artist, I needed to venture out and explore the world beyond my familiar surroundings.
During that same time, I came to the profound realization that true originality often requires distancing oneself from the familiar. And thus, as a young classical musician, I made the deliberate choice to embark on an exploratory journey, venturing into new environments and experiences far removed from the culture of my upbringing. The exposure to fresh, foreign landscapes breathed life into my inspiration in ways I could have never encountered if I had stayed in the Netherlands.
At the age of 22, I embarked on a new chapter in my musical journey by continuing my classical piano studies in Buenos Aires, Argentina. My time in South America left an indelible mark on me, and its influences continue to resonate in my work to this day.
After completing my piano studies, I formed the jazz band Alazán, in which I assumed the roles of singer and composer, offering a repertoire rooted in Argentine music. Seeking to further hone my vocal skills, I embarked on studies in Paris, where I further specialized in Argentine song. Subsequently, I delved into classical voice studies, which took me to back to Maastricht and later London, marking the next phases in my ongoing artistic evolution.
My world travels and diverse cultural encounters have enriched my journey, showcasing the universal language of melody and emotion. I weave diverse musical traditions and languages, crafting compositions that resonate worldwide. Proficient in multiple languages, my work not only captivates sonically but also resonates culturally.
Spanning continents, I quest for the universal language of music, weaving it into compositions that defy geographical boundaries. My aim extends beyond the auditory senses; I seek to touch the heart's innermost chords. In places where inspiration seemed elusive, I uncovered it amidst life's trials, the bittersweet experiences of youthful romance, and the enchantment of many different places. Even the stars, like unwavering guides, have whispered their secrets to me at times. Reflecting the sentiments beautifully articulated by artist Lee Mingwei, I humbly extend: "May I offer you the gift of song."
What are you most proud of?
My proudest achievements are the music, the lyrics and words I've created, and I am immensely gratified by the positive response they have garnered from people worldwide.
What do you find most rewarding about being a creative?
As an artist and a creative, I've come to appreciate that the most rewarding aspect of this journey is the seamless blending of art and life. They are so intricately connected that I can't separate them. To me, being an artist isn't a label or a role; it's an intrinsic part of who I am.
What matters most in my life is following my heart, writing what I hear, creating what I see, and loving with the utmost authenticity. This integration of art and existence is where the magic happens, where inspiration thrives, and where we find the true essence of our creative souls.
Have you ever had to pivot?
Life, as I've experienced it, is an ever-shifting journey marked by continuous pivots. It's the art of transitioning from one discipline to another, a perpetual adaptation to the unique demands of the various places I've called home around the world.
In my pursuit of self-expression and adaptability, I've journeyed from being a pianist to a vocalist, from a lyricist to a graphic designer, and most recently, I've ventured into the world of writing. Each twist and turn in my path has been a challenge to my ability to adapt to the evolving environments, allowing me to discover the most fitting role to express myself. These moments of change have consistently offered me the opportunity to embrace new facets of my creative identity. It's a powerful reminder that life's changes are not hurdles but stepping stones to inspiration and personal growth.
A Pivotal Story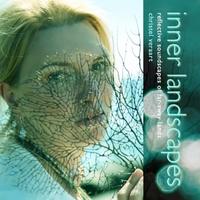 In the midst of crafting the poetry that would eventually serve as the lyrics for my album Inner Landscapes, my debut album of original compositions, I found myself trapped in a stifling cycle of self-censorship. It was as if my own judgments loomed over every word, stunting my creative flow. The pivotal moment arrived when I decided to let go of those inner critics and write without restraint, assuring myself that these words could remain forever private, shielded from prying eyes. What transpired next was nothing short of remarkable.
With the shackles of judgment removed, a vivid image unfurled in my mind—a door, slowly creaking open, wider and wider. As I allowed myself to pour out my thoughts without inhibition, that door expanded, revealing another door behind it, and then another. The lesson learned in that transformative instant remains etched in my memory: our most formidable adversary in the creative process is often our own self-censorship.
Read the full Canvas Rebel article